We Love The King
Terry Towels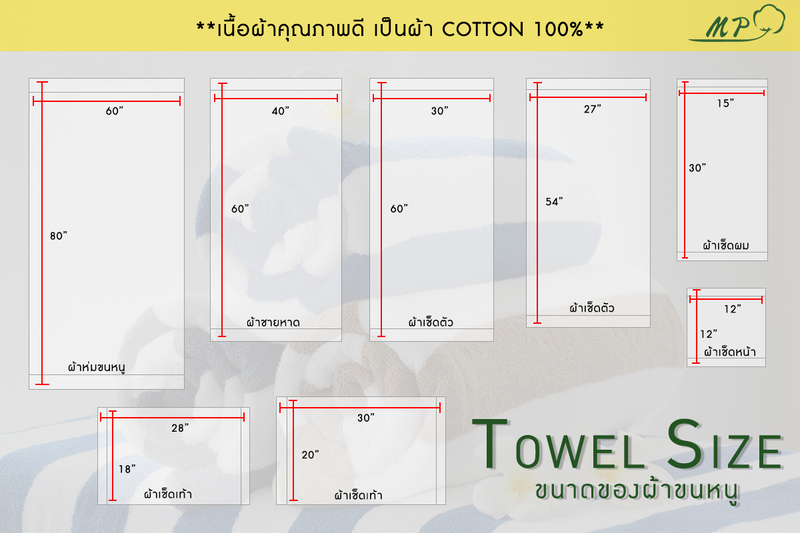 Color Guide
Products
Face, hand, bath towels
Pool Towels
Bath mats
Blankets
Terry Towel
Solid dyed – Towel makes from 100% cotton for ultimate comfort, absorbency, and durability. Towel that is dying one solid color for whole piece, which it can make from single loop and double loop yarn cotton. It can have some little of dobby and jacquard design to delight the beauty of the product. It has varies of face towel, hand towel, bath towel and blanket. Note . The size can be adjusted and customized by customers and requirements.
Jacquard Towel
Jacquard Towel products are using a high technology of weaving jacquard machine from Japan to produce. It can emboss the logo name on it and dyed color as solid dying, mostly it is using double loop to produce. Nether less, it can have variety of patterns by combining many yard colored as a strip long or more elegant by weaving logo with two colored front and back in which we called them "yard dyed towel". These valued luxury to the products and suitable for premium gift in many occasions.
Standard Household Towels
No
Description
Yarn type
Size (Inches)
Size (centimeters)
Minimum Order for
Emboss Logo (pcs/size)
Minimum Order for
Yarn dyed (pcs/size)
1
Face Towel
Double
12x12
30x30 cm
4,500
15,000
2
Hand Towel
Double
15x30
38x76 cm
1,200
5,000
3
Bath Towel
Double
27x54
69x137 cm
600
1,500
4
Bath Towel
Double
30x60
76x152 cm
600
1,500
5
Pool Towel
Double
40x60
102x152 cm
800
1,000
6
Bath Mat
Double
18x28
46x71 cm
1,200
N/A
7
Bath Mat
Double
20x30
51x76 cm
1,200
N/A
8
Blanket
Double
60x80
152x203 cm
200
800
Premium Towel
Embroidery Logo : Towel can create personal identity by embroidery the name or logo of company onto the towel and pack into the packaging. We can help to serve one stop service for a faster service.
We Love The King